For the evening
We have developed this Chandra infusion, 'the moon', with herbs to prepare for the night.
Chandra
For the evening
Ecology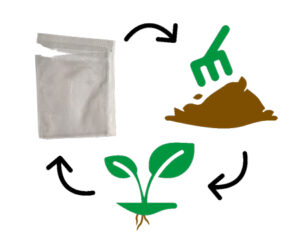 Our freshness envelope, despite resembling plastic, is made from cellulose therefore

compostable

.
Our teabags and string are also compostable.
Our tag is made from recyclable PEFC™ paper.
Note: we sell the majority of our infusions only in tea bags and not in bulk. The difference in density of the ingredients would make the heavier ones fall to the bottom of the container. Thus, the mixture would lose its homogeneity and the medicinal proportions would not be preserved.

Ingredients
Tulsi Vana*
–
India
Angelica*
–
France
Black elder*
–
France / Poland
Nutmeg*
–
India / Madagascar
Chamomile*
–
France
Lavender officinale*
–
France
Green mandarin*
–
Italy / Brazil
*: From organic farming

Taste

This floral infusion is full of gentle tones for a deserved rest.

Preparation

Use a tea bag of Chandra for 200 ml of boiling water.
Steep for about 8 minutes.