Trikatu – 250 grams
36,00 €
Sold in 250 grammes metallic box.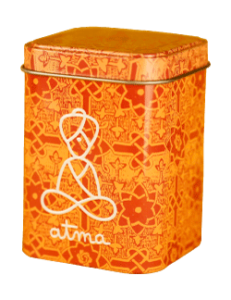 Trikatu
250 grams
Ayurvedic benefits
Trikatu is a blend of 3 digestive spices : ginger, black pepper and long pepper (pippali). Trikatu is well known and used in Ayurveda.
It has a tonic effect on the digestive fire (Agni) and so improving digestion and nutrient assimilation. You can season your dishes with it, sparingly, it's very spicy! However, don't use it if you have a sensitive intestine (irritations, heartburn…).
The spicy nature of this mixture will also cleanse the circulatory ducts and burn Ama (the unmetabolized waste from digestion) to free the body from congestion and increase its adaptive and vital capacities.
Trikatu can also be used:
– with honey, for asthma problems,
– with ghee for skin problems.
Don't take more than 3 grams per day.
Ingredients
Ginger*
–
Indonesia
Black pepper*
–
Sri Lanka / India / Madagascar
Long pepper*
–
Sri Lanka / Nepal
*: from organic farming